The Peter H. Rossi Award
for Contributions to the Theory or Practice
of Program Evaluation
The Peter H. Rossi Award honors the lifetime achievements of Peter Rossi by recognizing important contributions to the theory or practice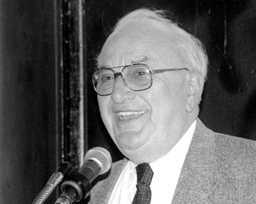 of program evaluation. The award may be for a recent paper or publication or for an entire body of work. The awardee gives a major talk at the annual Fall Research Conference of the Association for Public Policy Analysis and Management (APPAM), and receives a plaque, reimbursement for travel expenses to the meeting, and a cash award in the amount of $2,000.
The APPAM Policy Council approved this award on April 8, 2005. Funding for the award comes from an endowment managed by the University System of Maryland Foundation, Inc. This endowment is accepting donations (click here for more information).
(from the New York Times)
Peter H. Rossi, a prominent sociologist best known for documenting the changing face of American homelessness in the 1980s, died on October 7, 2006, at his home in Amherst, Massachusetts. He was eighty-four. Professor Rossi died of natural causes, his family said. At his death, Professor Rossi was Stuart A. Rice professor emeritus of sociology at the University of Massachusetts, Amherst, where he had taught for many years. He was also director emeritus of the Social and Demographic Research Inst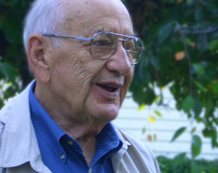 itute at the university.
Professor Rossi's most famous book was Down and Out in America: The Origins of Homelessness (University of Chicago, 1989). In it, he chronicled the shift in the nation's homeless population from the older white male denizens of post-World War II skid rows to a younger, larger group that included many more women, children, and minorities. For the book, Professor Rossi and a team of researchers took to the streets of Chicago in 1985 and 1986 in one of the first systematic efforts to count the homeless. Their work suggested that the national homeless population was far lower than thought—300,000 to 500,000 people instead of the two million to three million often cited. The findings drew criticism from many advocates for the homeless.
His other research also centered on the effectiveness of social programs in several areas, among them poverty, hunger and prison reform. Although he personally favored social policies that helped the disenfranchised, his work sought to determine objectively whether such programs actually worked. As a result, it seemed to appeal equally to conservatives (who invoked it to highlight the failure of particular programs) and to liberals (who invoked it to argue for strengthening the same programs). Professor Rossi's other books include The Education of Catholic Americans (Aldine Publishing, 1966), with Andrew M. Greeley; Armed and Considered Dangerous: A Survey of Felons and Their Firearms (Aldine de Gruyter, 1986), with James D. Wright; and Of Human Bonding: Parent-Child Relations Across the Life Course (Aldine de Gruyter, 1990), written with his wife, Alice S. Rossi, a sociologist who was a founder of the National Organization for Women.
Peter Henry Rossi was born on December 27, 1921, in Queens. He earned a bachelor's in sociology from the City College of New York in 1943 and, after Army service in World War II, a doctorate in sociology from Columbia in 1951. After teaching at Harvard, Professor Rossi joined the faculty at the University of Chicago, where he also directed the National Opinion Research Center. He later taught at Johns Hopkins and joined the University of Massachusetts in 1974. He retired in 1992.
Professor Rossi's first marriage ended in divorce. He married Alice Schaerr in 1951. Besides his wife, the Harriet Martineau professor emerita of sociology at the University of Massachusetts, Amherst, surviving are their three children, Kristin, of Keene, New Hampshire; Nina Bander of Turners Falls, Massachusetts; and Peter, an economist at the University of Chicago; and six grandchildren.
Professor Rossi remains active in the field of program evaluation. Click here to read his remarks at the Association for Public Policy and Management's 2003 Mini-plenary Conference concerning his famous Iron Law paper.
-Margalit Fox, October 13, 2006
---
| | |
| --- | --- |
| 2022: | Bridget Terry Long, Harvard Graduate School of Education |
| | Award announcement | Acceptance remarks (video) |
| 2020: | Randall S. Brown, Mathematica Policy Research |
| | Award announcement | Acceptance remarks (published in Evaluation Review) |
| 2018: | Mark W. Lipsey, Vanderbilt University |
| | Award announcement | Acceptance remarks |
| 2016: | Alice Rivlin, Rudolph Penner, Robert Reischauer, Congressional Budget Office |
| | Award announcement | |
| 2014: | Larry L. Orr, Johns Hopkins University |
| 2012: | Thomas D. Cook, Northwestern University |
| 2010: | Howard S. Bloom, MDRC |
| 2009: | Rebecca A. Maynard, University of Pennsylvania |
| 2008: | Judith M. Gueron, MDRC |
| 2007: | Grover J. (Russ) Whitehurst, Institute of Education Sciences |
| 2006: | Robinson G. Hollister, Swarthmore College |
| 2005: | Frederick Mosteller, Harvard University |
Nominations may be made by any individual or organization. (Individuals may nominate their own work.)
Nominations may be based on a recent paper or publication, or an entire body of work. The selection committee holds the right to, from time to time, establish time limits for what may be considered. When appropriate, joint awards will be made for coauthored works or joint products.
The paper, publication, or body of work may involve any aspect of planning, conducting, or analyzing evaluations of social programs and may be directed to lay or professional audiences. The work should reflect the importance of precision and objectivity in setting the evaluation framework, design, execution, and reporting, as well as the value of evidence-based presentation or translation for varied audiences. Illustrative examples include works on the state of evaluation or knowledge in a particular substantive field, new approaches to program evaluation, and program evaluation and its role in the political decision making process.
The letter of nomination (with the nominee's current address, email address, and phone number) should detail the contributions made by the work to the field of evaluation, and should include the paper or relevant examples of the nominee's body of work.
Nominations should be sent via e-mail to:
Professor Douglas J. Besharov
School of Public Policy
University of Maryland
Besharov@umd.edu
The 2022 selection committee is chaired by Douglas J. Besharov, University of Maryland and includes former presidents of APPAM and past Rossi awardees.
Starting in 2011, awards will be made every two years. All nominating materials for the 2022 award must be received by September 1, 2022.
In 2017, the Peter H. Rossi Award Committee announced a special award to Professor Alberto Martini in recognition of his leadership in encouraging the highest standards of causal inference research, both in his home country of Italy and in Europe generally (click here for more information on Professor Martini's award).

On the basis of the recommendations of the Rossi Award Committee and the experience with the award to Professor Martini, we have decided to introduce a separate award oriented toward European scholars and practitioners. The award recognizes scientific or practice contributions to causal research and evaluation in support of the advancement of public policy in Europe or elsewhere. Follow this link to learn more about the European Rossi award and how to submit a nomination.