Donna E. Shalala
Secretary of Health and Human Services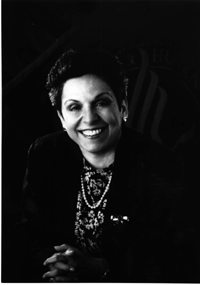 Read Secretary Shalala's Remarks
Donna E. Shalala, U.S. Secretary of Health and Human Services, has been a scholar, educational administrator and a public servant for her entire career.
She was confirmed by the U.S. Senate on January 22, 1993 to lead the federal government's principal agency for protecting the health of all Americans and providing essential human services. With a Fiscal Year 1997 budget of approximately $354 billion and 59,000 employees, HHS administers a wide variety of programs including Medicare, Medicaid and almost all of the federal welfare and children's programs.
As Chancellor of the University of Wisconsin-Madison from 1988-1993, she was the first woman to head a Big Ten University. Prior to that, she served as president of Hunter College at the City University of New York for eight years, and as Assistant Secretary for Policy Development and Research at the Department of Housing and Urban Development during the Carter Administration.
A leading scholar on the political economy of state and local governments Dr. Shalala has held tenured professorships at Columbia, CUNY and Wisconsin. From 1962-1964, she served in the Peace Corps in Iran.
Secretary Shalala has a long history of forging public/private partnerships. From 1975 to 1977, she served as director and treasurer of the Municipal Assistance Corporation, the organization that helped reverse New York's financial collapse. She has been a director of the American Stock Exchange, TIMCREF and M & I Bank of Wisconsin.
As a member of the Committee for Economic Development, she contributed to bipartisan reports on the basic health, welfare and educational needs of our youngest children.
At the University of Wisconsin, Dr. Shalala administered the nation's largest public research university. During her tenure at UW, she helped to raise over $400 million for the university's endowment and spearheaded a $225 million State-private partnerships program to renovate and add to the university's research facilities for its world class scientists.
In 1992 BusinessWeek named her one of the top five managers in higher education. An expert on TQM she is considered one of the most experienced and successful public managers in the country.
Since taking the helm at HHS, Secretary Shalala has shifted the focus of the Department to the everyday needs of all Americans. She is a leader in the administration's efforts to reform the nation's welfare system and improve health care while containing health costs. She is also carrying out management restructuring and reform at HHS, under the Vice President's initiative to "reinvent government," aimed at improving efficiency and service to constituents.
In announcing her appointment, then President-elect Clinton noted her "astonishing leadership abilities--and her love of mountain climbing. Of all the mountains Donna Shalala has scaled, HHS may be the highest."
ADDITIONAL INFORMATION
Nominated: January 20, 1993
Sworn-in: January 22, 1993
Born: February 14, 1941, Cleveland, Ohio
B.A.: Western College for Women, 1962
Ph.D.: Maxwell School of Citizenship and Public Affairs, Syracuse University, 1970