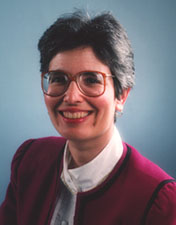 Olivia Golden
Assistant Secretary, Administration for Children and Families
Olivia Golden, Ph.D., was sworn-in as the assistant secretary for children and families at the Department of Health and Human Services Nov. 12, 1997. She was nominated by President Clinton April 16, 1997 and confirmed Nov. 8, 1997.
The assistant secretary for the children and families oversees the agency that brings together a broad range of over 60 federal programs that address the economic well-being and healthy development of children and families. Those programs include Head Start, the new Temporary Assistance for Needy Families program, child support enforcement, foster care, adoption, child care, child abuse and neglect, and refugee, Native American, and developmental disability programs, the Community Services, Social Services, and Low Income Home Energy Assistance block grants, and the Family Preservation/Family Support Services program. ACF has a budget of more than $37 billion and a staff of more than 1,500 employees. Golden served as acting assistant secretary for children and families from Sept. 30, 1996 to Nov. 12, 1997. As acting assistant secretary, Golden helped oversee implementation of the reforms in welfare enacted this year under the Personal Responsibility and Work Opportunity Reconciliation Act of 1996.
From Nov. 23, 1993 to Sept. 30, 1996, she served as commissioner on children, youth and families, a component of ACF. As commissioner, Golden helped create the new Early Head Start program, which extends the benefits of Head Start to infants and toddlers; implemented the 1994 reauthorization of Head Start to ensure quality services in all programs; created the new Child Care Bureau as a new Federal focus on child care; and helped lay the groundwork for the President's Adoption 2002 initiative and the 1997 adoption legislation.
Before joining the Administration, Golden was director of programs and policy for the Children's Defense Fund in Washington, D.C.,where she was responsible for policy development, advocacy, research and writing across a range of children's issues.
Golden was a lecturer in public policy at Harvard University's Kennedy School of Government between 1987 and 1991, focusing on child and family policy, employment and training, and public management. She served as budget director for the Massachusetts Executive Office of Human Services from 1983 to 1985. Golden was also a candidate for the Massachusetts Senate in 1986 and she chaired the Advisory Committee on Children and Youth for Cambridge, Mass. from 1990-1991.
Author of Poor Children and Welfare Reform (Auburn House Press, 1992), Golden has written on policy and management issues concerning children and their families. Her research has focused on the way services work for children and families, including issues of innovation, collaboration and effective service delivery.
Golden received a Doctorate in 1983 and a Masters degree in 1981 in public policy from the Harvard University Kennedy School of Government. She also received a B.A. degree in philosophy and government from Harvard University in 1976.
Born in May 23, 1955, in New York City. Golden resides in Washington, D.C.